- In game name: [MG]Grimlock
- Your Age:17
- Where are you from : Las Vegas, NV USA
- How long have you been a part of the community: 2-3 years
- At which time your active the most and Specify your Timezone : 8 am - 9 pm MST
- Did you had previous experience in being an administrator , if so for how long: Yes I have in a CNR server for 1 year.
- Why do you want to be an Admin/Moderator :
Well personally MG has been my heart and soul since I have been here and I feel that its my duty to protect it the best I can. So helping the server and getting hackers banned or any rulebreaker is my perogitive. I also would like to be a help mod since the server is short staffed and not many get on the times I do so the server is not being watched constantly. So for those times without anyone watching I can be there to fill in and help protect our server. Another Reason is because I have experience here and I have been a admin for another server at one time so I have the experience to help and serve MG with all my capabilities and resourcefulness.
- How can you help the server being an Administrator : I can be available at times a mod/admin is not active and I would catch any hacker / rulebreaker there is. I can also help the under experienced in the community paving a new road for the new face of the MG community in the future.
- Why should we hire you instead of someone else? (Explain in atleast 50 Words): I would hire me because I can give 110% devotion like no one else would. I can be active when most are not and I have a lot of respect for our community and rules and I would give my all to use my powers to protect our server and community.
- Rate your English Level (1-10) : 8-9
- Rate your Maturity Level (1-10) , and Explain why you think that : 8 and the reason I think that is because I am mature and respectful I don't go off raging or making a fuss about petty issues I stay calm and don't insult other's. Yes I do joke around at some times to just poke some fun at others just to make them laugh/happy or just to make the time being happy and enjoyable.
- Do you know about the dark side of being a staff member ? State your reasons  : Yes ofcourse I know of the dark side of being a staff member. I have seen a few staff go power hungry and abuse their power and that's not a thing I intend to do.
- Post a screenshot of your /stats :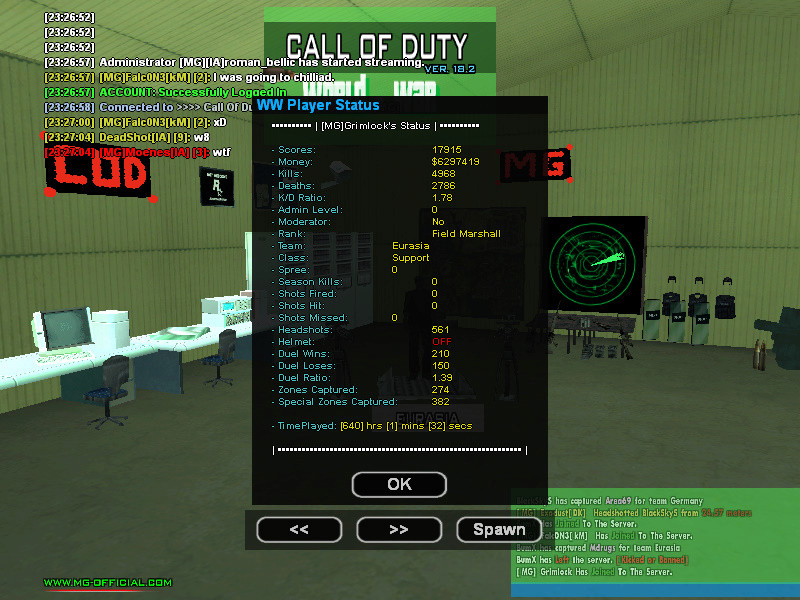 Side note: I know I haven't had my [MG] Tag for one month , so I ask that forum staff lock this until the time remaining is up and I would have held the tag for one month. Reason I posted my app is so that I would have it in and ready. Or if I could be given a chance considering how long I have been here and my experience with the server that would be a dream come true to serve you all and to make the server and community proud.